There is Nothing Like the Beauty of a Winter Time Sky
Eleventh grade Language Arts students recently studied a poem by Native American writer, N Scott Momaday. The name of the poem is, North Dakota, North Light.' It's a nature' poem of a beautiful winter setting. The northern lights, one of several astronomical phenomena called polar lights, are shafts or curtains of colored light visible on occasion in the night sky. This poem is from Momaday's book, `In the Presence of the Sun: Stories and Poems, 1961-1991.' Momaday is a Pulitzer Prize award winner.
Here is the poem:

North Dakota, North Light

The cold comes about
among the sheer, lucid planes
Rabbits rest in the foreground;
the sky is clenched upon them.
A glassy wind glances
from the ball of bone in my wrist
even as I brace myself,
and I cannot conceive
of summer;
and another man in me
stands for it,
wills even to remain,
figurative, fixed,
among the hard, hunchbacked rabbits,
among the sheer, shining planes.
Following are student essays and their thoughts about this winter time, descriptive poem:
By Chelsea Wollweber
Isn't it strange at this time of the year that for most of us, we get a strange feeling of wanting to be outside no matter how cold it is? We may complain about the cold but deep down we love feeling the cold air. Some of us may sit outside drinking coffee or hot chocolate trying to keep as warm as we can but still enjoying the cold. We may even take a walk instead of sitting. We also can't forget the winter nights going outside admiring the stars; then some nights we might not see them as the clouds will be covering them. But some stars will shine through and if you are lucky you will see snow.
By Samora Sanchez
This poem makes me think about being outside and it's a little chilly (cold). Also when it mentions rabbits that makes me think of rabbits sleeping and rabbits just hopping around playing. When the author mentions the wind that makes me think it's a cold breeze once he walks outside and he is thinking of summer but once that cold breeze hits him he gets the chills (goosebumps). Also he mentions hunchback rabbits which makes me think of maybe rabbits bending over to eat or look for food. I don't really have a real meaning for that but that the first thing that came to my head was like, well, maybe they're eating. This poem makes your mind picture all these different things, so like everybody might think of something absolutely different but that's my thoughts.
By Norlyn Lowden
When I read this poem all I pictured was being in the middle of the woods and it being dark and cold. This poem is honestly just so magical to me in a way I can't describe. This poem was the first poem I think I have ever read that made me feel what was going on. To me this poem is telling a story of someone who maybe was overwhelmed with emotion and just happened to look up and saw the most beautiful thing they've ever seen. This is what I thought of when I was reading it as well as trying to picture it. My favorite part of the poem was, "The cold comes about, among the sheer, lucid planes," because this to me summed up what a nice cold winter night is like. But overall this poem was very fascinating to read.

By Romero Hudson
The poem, "North Dakota, North Lights!" What I like about it is it shows how animals are ready for winter, how the sky lights up, and winter is coming. What I see in my mind is a tall mountain tree around you but not close enough so that it's not covering the sky; and as the sun goes down it gets cold and dark. The animals you see are going home. There is a breeze as snow is hitting your face. Then the sky lights up with light but not from the moon but from the northern lights, and it's a beautiful scene; one that could only be seen by movies.
By Santana Chavez
This poem gives me winter vibes but sounds like it is set in a different season. This may be because there are some things like the rabbits hunched over and the cold wind described. It sounds like the place that the poem takes place in is very calm and still. Compared to other poems this one has a sense of detail that other poems lack. The details are very specific and describe the surroundings well.
By Jessalyn Bautista
This poem gives me images of a beautiful night sky, and with the gusty winds making it so much colder. With a clear sky being able to see the bright colored lights in the sky. And the plain environment of the setting feels like the poem takes place in a plain field in the back of my yard making it even more beautiful to stare or even camp outside your house. It makes me want to go see the northern lights in person and experience this own imaginary picture I have set in my head. Especially with how nature is described in the poem with there being rabbits. This makes it seem like you're at peace when you're reading the poem, like the world just stopped for a minute for readers to live the experience the author is trying to tell.
By Brendan Hassell
What I liked about this poem is the way the author likes to use his words to create a picture and define the picture. Such as how he uses words like lucid or glassy to define the clearness of the setting. I also liked the setting of the poem with the animals around the area and the way he had defined those as well. I also liked how he had described the cold. I also liked how I can relate to the sheer cold due to the weather here now. But finally I liked the way that he had described the lights the most, because it gave a vivid representation of what it would look like. So in conclusion what I liked about the poem was the way that he described things with a clear perspective almost like you are there.

By Cadence Siow
When I read the poem in my head all I can picture is a clear grassy field. Towards the back there is a gate of sheep sitting back there in the night sky. I also picture the little white rabbit from `Alice in Wonderland' running back and forth across the field. All of this seems like something you would only see if you were in a deep sleep. I also picture it being night, cold and kind of foggy, with the clouds covering the full moon. Not to mention that there are lots of stars out too so the night sky is very bright; bright enough you wouldn't need a flashlight or anything to see as you walk.
By Cruz Enditto
What I like best about the `North Dakota, North Lights' poem is how the lights are up in the sky and how it shines upon the air. Even at night it looks beautiful; you can see it clearly in the sky with snow around you. Also, during the day you can barely see the lights in the sky because of the day time and from the sun. Even when you're walking around you notice the rabbits are in the foreground resting. The sky is something that catches the mindset to be looked at in a meaningful way of seeing the beautiful sky filled with lights. It's quiet and white while looking up at the sky and wondering what makes the sky light up during the night time. In the mornings is when you can somewhat still see the lights in the sky every day when you wake up there.
By Isabelle Torivio
The thing I like most about this poem is the way the writer describes different ways on how they felt. How they describe how cold it was. It also talks about how the snow looked and uses a different way on how to describe them. For example, the writer says how he can't even think of summer during this time because they're so cold. The writer also uses different words that not many people know about. I also like how their words kind of make you think about and try to figure out what they are trying to tell us about. Like for example when the writer said the ball of bone in my wrist. It made all of us think what he was talking about but when we found out it made sense.
By Ciara Sorrell
This poem makes me think about Christmas and how maybe he went to the North Pole to see the Northern Lights. "As I brace myself, and I cannot conceive of summer." This is a sentence I can relate to because just this morning I was standing in the freezing cold waiting for my bus. This poem makes me feel kind of relaxed because of how he describes how he feels, and his surroundings. How he words the poem helps the reader feel related to it, or they feel like they are there. One sentence that really popped out to me was when he mentioned the hunchback rabbits. During the winter hunchback rabbits go into a hole to stay warm and that is what he was somewhat referring to.

By Amarae Marquez
In my mind I see snow everywhere. I see rabbits going into hibernation. I see people having snow fights. I see snowmen being built. When I read this poem I imagined people decorating for the holidays. I see people shoveling snow off their driveways. I see kids laughing and having fun in the winter snow.
By Brianna Ashley
What I like about the poem is that winter is coming, everybody is staying inside, and animals are getting ready to hibernate. Going outside is pretty cold. Hands are already cold with wind blowing through the cold air. The coldness can be satisfying because winter is one of the best seasons. It makes me think of how cold winter can be and how we would have to prepare for snow and the season. I love winter because the snow makes the ground filled up with white flakes and it's pretty when the sun isn't out. It makes me think about the dry roads and a few planes flying in the sky.
By Isabella Trujillo
I like how Momady uses different seasons and different types of weather to be the main structure of this poem. And how he uses different complex words not usually put in a short poem such as this one. He words it very nicely towards where you can picture what he is talking about in your head. When he says, "The cold comes about among the sheer, lucid planes", you can picture a nice morning where when you step outside you can feel the cold on your skin, coming through the little clouds or the nice morning sunrise. He also says, "And I cannot conceive of summer," which is kind of referencing how he cannot imagine how hot and sort of miserable summer will be or even if it's so cold where he cannot imagine a nice hot summer. Overall the words and wording in this poem is very well structured and should be very appreciated.
By Desirae Pouges
Knowing that the story is kind of creating the scenery of being in North Dakota, viewing the Northern Lights that most people only see in movies. When the author said, "Sheer, lucid planes," I think of a river or lake frozen that you could walk on, and all kinds of piles of snow and ice. When he says the glassy wind, it reminds me of the time when I went running and your throat feels cold because the air is cold. I learned from watching this one show called, Life Below Zero, and they talk about how living in Antarctica teaches them to manage their breathing because the cold air can freeze their lungs. The poem is fairly short but if the author were to make it longer, I wonder if he would add more detail to the snow or the sky. Personally, I do not like the winter, I used to like the cold more but I've grown to like Spring and Summer.
By Temira Jack
What I liked about the poem was how he thought about the seasons and how he explained it. He was also talking about how it's cold in the winter and how he would explain it in the poem. He also explains how there would be rabbits running the grassy pastures. Then he was talking about how when it was cold they were in winter and not in summer. He was also explaining that the green grassy pasture was covered in snow. He was also describing how it was cold and how everything was where he was at. I could picture it in my head and explain how it looked. That everything was covered in snow and how pretty it looked like and how cold it was.
By Taylor Victorino
The poem 'North Dakota, North Lights' is about looking at the northern lights during winter. The narrator says a few lines that indicate that it's winter - like at the beginning it says, "The cold comes out about among the sheer, lucid planes.' The narrator is looking at the northern lights. The poem states, "The sky is clenched upon them." The northern lights are very bright and mostly covers a large area in the sky. The narrator is really cold as he braces himself from the cold but he still wants to see the northern lights. I can imagine the narrator standing in the open fields in the great plains standing there while watching the northern lights. I really like this poem because it talks about nature. I really love nature and like poems that talk about nature.
GHS Sport students sharing their experience
Christmas Traditions in Different Countries
By Serena Antonio
Christmas is a very popular holiday; kids around the world love Christmas. Christmas is always on Dec. 25. Christmas is a holiday where everyone gets together and eats dinner, opens gifts and spends time as a big family. Christmas originated in Rome about 336 AD. Worldwide there are 160 countries that celebrate Christmas. Many countries around the world celebrate Christmas, including Australia, Spain, France, and Mexico.
One of the countries Christmas is celebrated in is Spain. Spain's Christmas traditions are mainly celebrated on Dec. 24 (Christmas Eve). The citizens of Spain usually have turkey stuffed with truffles or seafood. They have midnight mass and after they hold torches and play instruments in the streets to celebrate. Spain's midnight mass is known as La Misa Del Gallo (The Mass of the Rooster).
Another country that celebrates Christmas is Australia. In Australia they celebrate Christmas by going Christmas Caroling on Christmas Eve and decorate their houses and gardens with tons of lights. Also in Australia they have light competitions, street parties, Boxing Day barbecues and Festive road trips. Boxing Day is after Christmas and friends and families get together to watch the Boxing Day Test. When the citizens of Australia go Christmas Caroling they hold candles and most of the caroling is in major cities. Also in Australia, their Christmas is in summer so they do a lot of outdoor activities.
Another country that celebrates Christmas is France. The French celebrate Christmas by having Advent Calendars, Midnight Mass and a mistletoe tradition. Their advent calendar tradition starts on Dec. 1 and ends on Christmas day. The French also celebrate Midnight mass which is on Christmas Eve. In France the people hang mistletoe as important Christmas decor. The decoration is supposed to bring good luck.
Another country that celebrates Christmas is Mexico. In Mexico their traditions are dancing, Spanish Christmas carols and candle-lit processions. In Mexico they have festivals and they dance and light fireworks. They also go around and sing Christmas carols in their language. And they light a candle to show respect to the journey to Bethlehem of Joseph and Mary.
There are many Christmas traditions around the world. Christmas is also celebrated in many countries. Christmas is a special day to spend time with family and appreciate the time with them. On Christmas Day or Christmas Eve you can go to a family member's house and open presents and eat dinner at their house and enjoy everyone's time.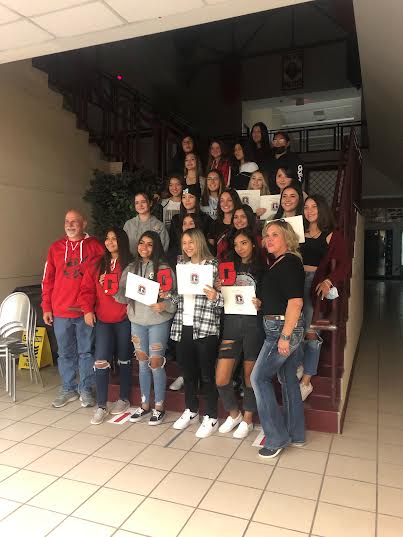 Picture cutline
The Pirates, shown here in a group picture, meshed well both on and off the field this year. They finished a respectable 7-10 overall.
Lady Pirates Earn 7 Hard-Fought Wins
Future looks bright for GHS soccer
By Serena Antonio
The Lady Pirates girls' soccer team had a pretty good 2021-2022 season. Throughout the season the team played tough every game and gave a good challenge to the other teams.
Throughout the season the team created a good bond with one another which helped majorly on the field. From the very first game in Socorro to the last game here at the Grants High School Stadium against Belen, I saw much improvement from all the ladies on the team. The team had a rough start to the season but by the time districts came around the ladies really did well.
The Lady Pirates had a very eventful season. They worked together in and out of practice and they had many events to bond with each other. GHS ended their season with a record of 7-10 and a district record of 2-6. After the Lady Pirates scored a goal, all the girls celebrated with joy and the ladies were all very excited. The Lady Pirates accomplished a lot with their soccer season and they worked very hard.
The Lady Pirates top scorer this season was a junior, Chloe Rychener, with sixteen goals. Chloe was a defender and center midfielder this season.
I actually talked to Chloe and asked her a few questions like: How do you think the Lady Pirates season went? She stated, "I think our season went pretty good with the ladies we had because a lot of the girls were inexperienced."
I also asked her if she was proud of what she accomplished this season? She stated, "Yes, I think I did very well. I'm very glad I got to score."
Chloe had a very good season with very great stats as next year will be her last year on the Lady Pirates soccer team.
The Lady Pirates soccer team accomplished a lot this season and there is still a lot of improvement that the ladies will gain next upcoming season. The Lady Pirates all around have very good players with tons of improvement coming. Let's see what the team accomplishes next season.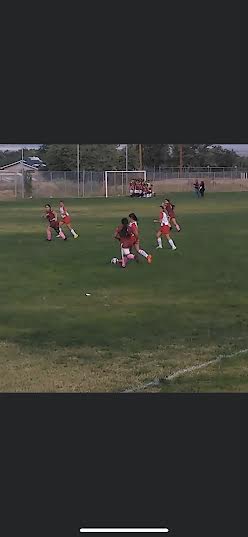 GHS girls in action. The Lady Pirates played hard throughout the fall season.