To all GCCS Staff! Thank you for such a great year! Have a Fantastic Summer!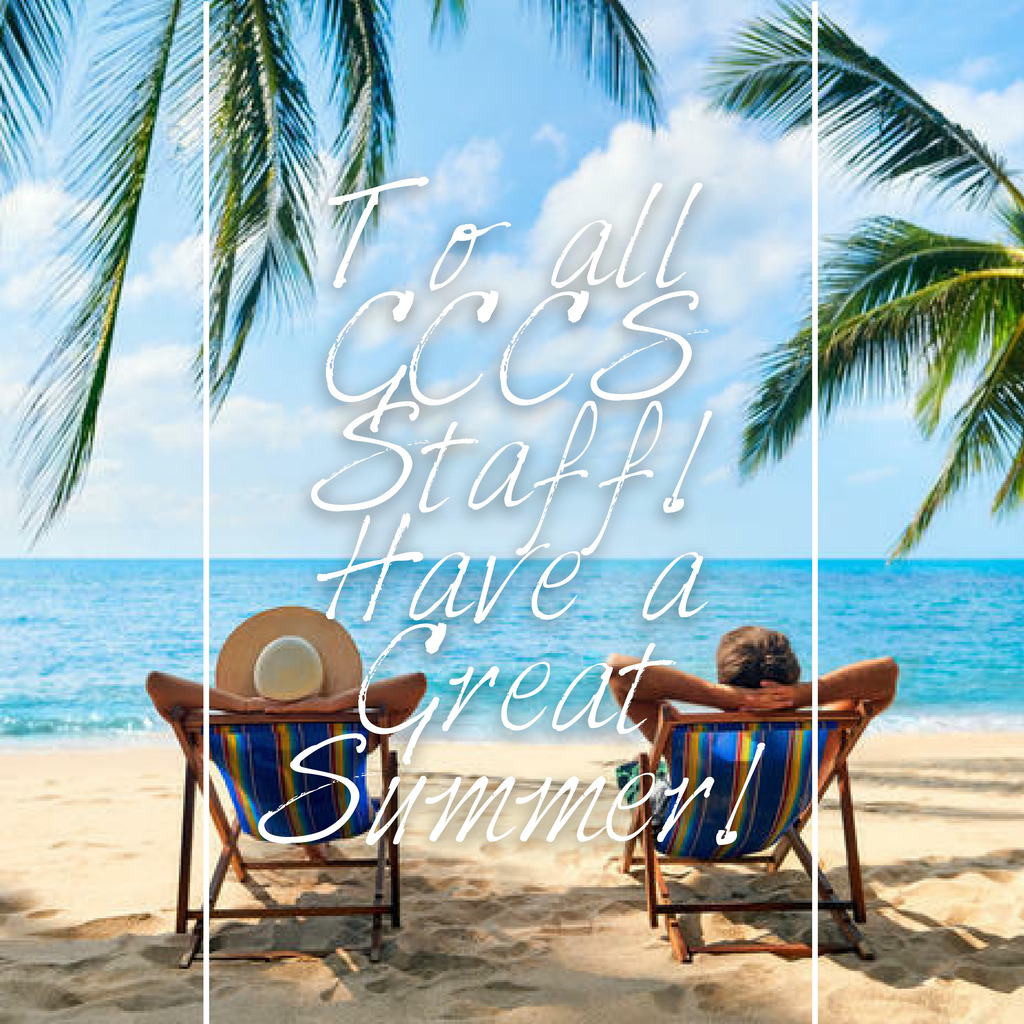 All of us at Grants Cibola County Schools want to give a shout out to the Grants High School Baseball program as they cleaned up the District 5-4A awards this year! The winners are: Camren McDaugale – All District Academic Team Niko Young – Pitcher of the Year Andres (Ralphy) Lopez – 1st Team All District Izeyah Manzanares – 1st Team All District Dominick Gonzales – 1st Team All District Gabriel Marquez – 1st Team All District Boudy Melonas – 1st Team All District Steve Barela – 1st Team All District Mike Furbee – Coach of the Year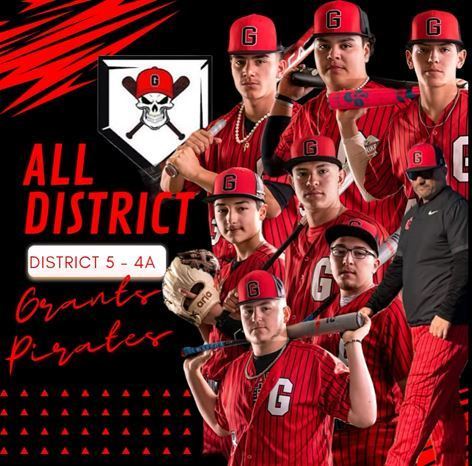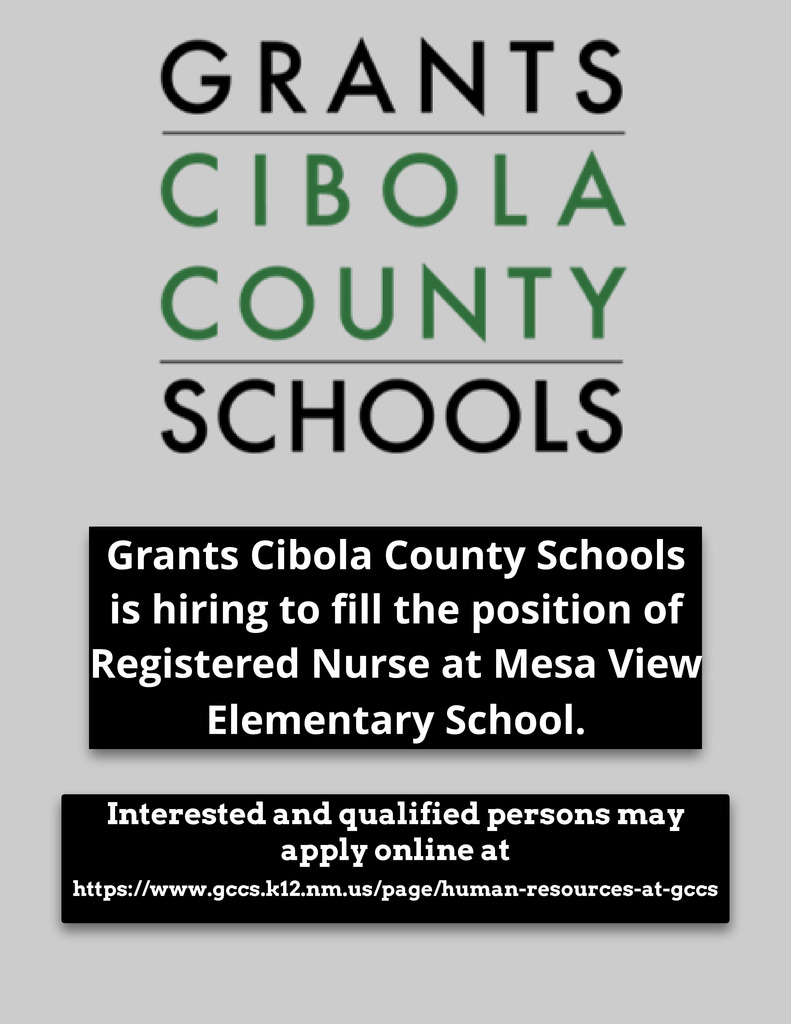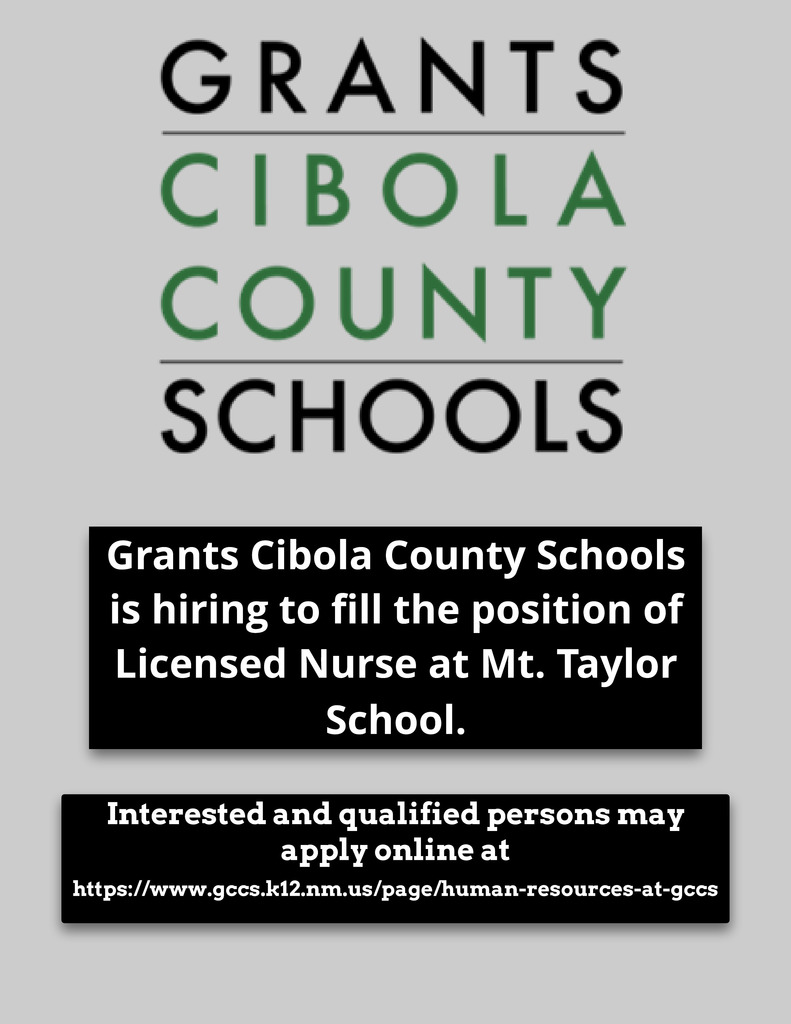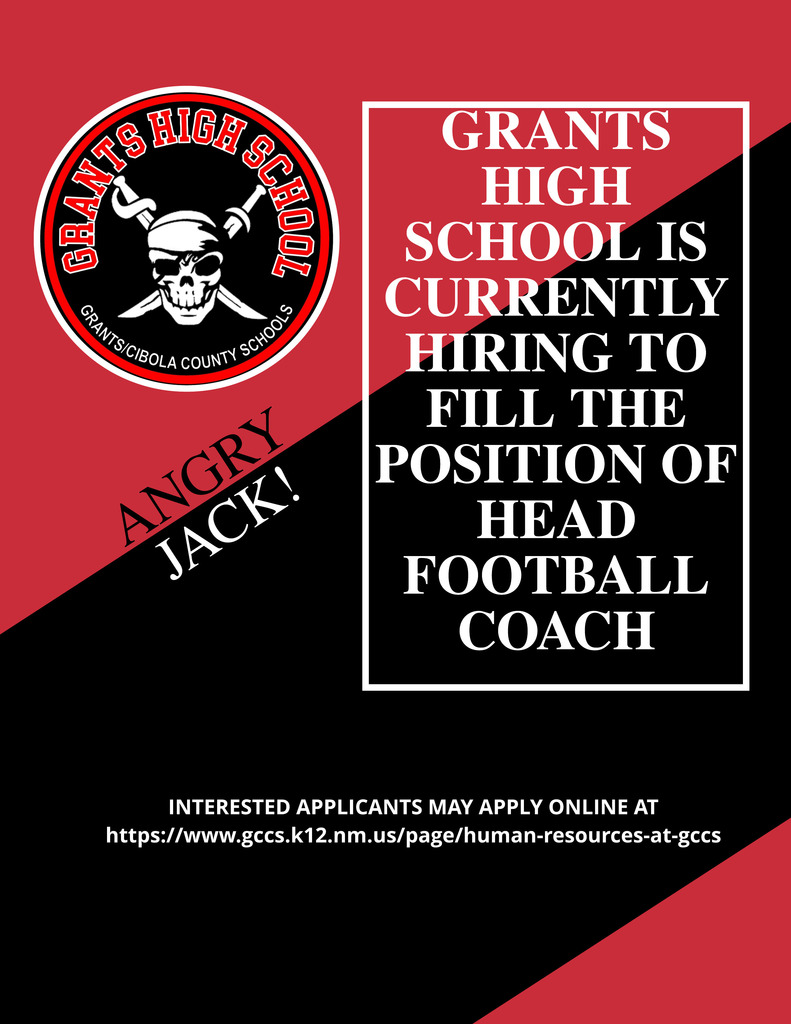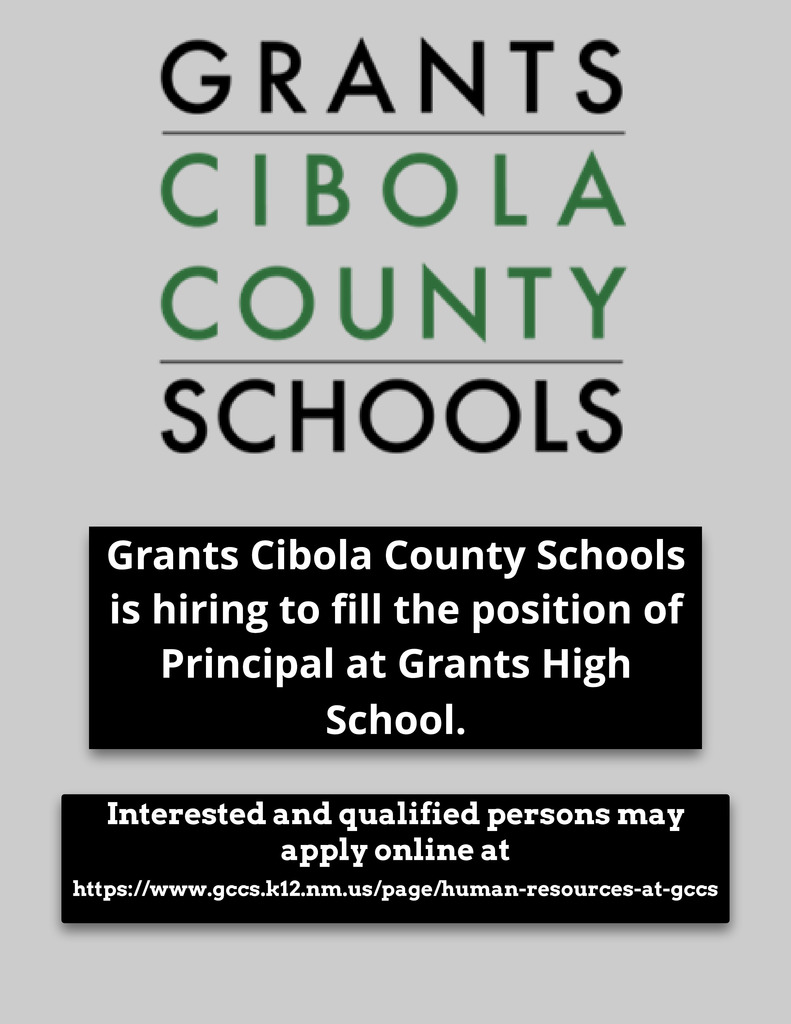 All of us at Grants Cibola County Schools would like to Congratulate Mr. Lane Widner who was selected as our New Superintendent of Schools! Congratulations Mr. Widner! We look forward to the Future!!!

Attention GCCS Community - The school board will be exiting from closed session and invites you to join the live feed to the open session board meeting for the announcement of our new Superintendent. You can watch the feed at
https://www.youtube.com/watch?v=daAkt-hX8Mg
Thanks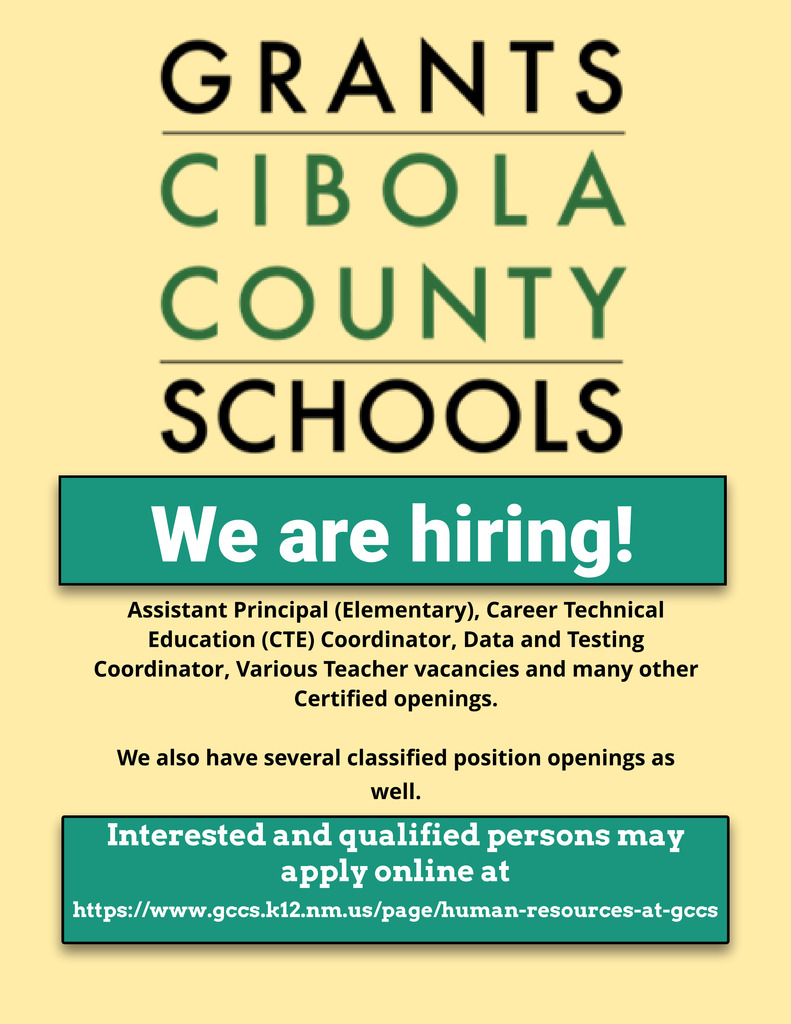 GCCS would like to invite the youth of our community to participate in the Detmer Youth Football League All Star Camps, June 2nd & 3rd! Please see the attached flyer for more information! For questions please call the Grants Recreation Department.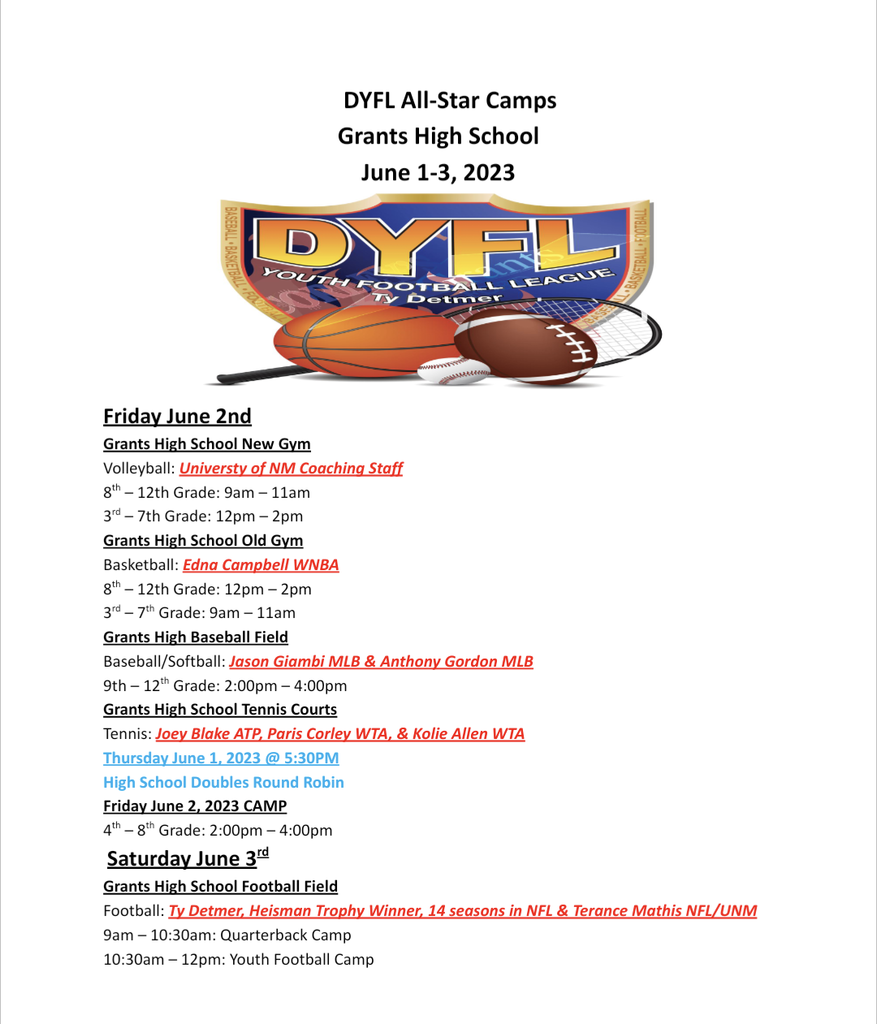 We are already getting ready for the 2023-2024 School Year! So we wanted to share some School Supplies information with you. Thanks and have a Great Summer!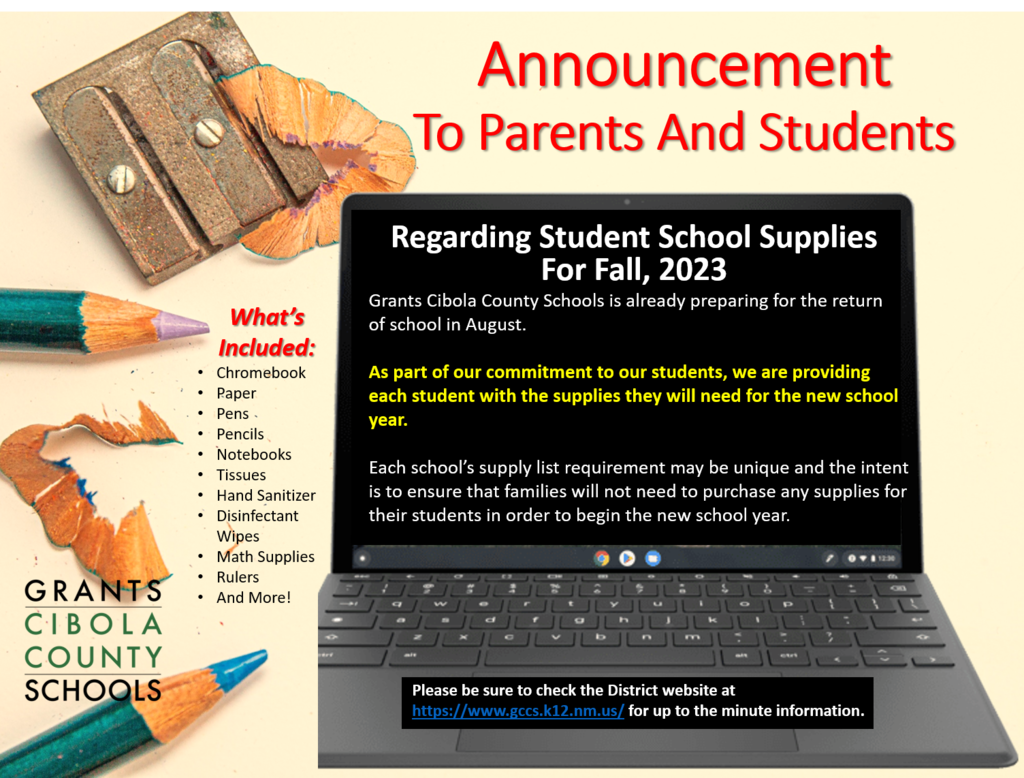 Public Announcement from Grants Cibola County Schools.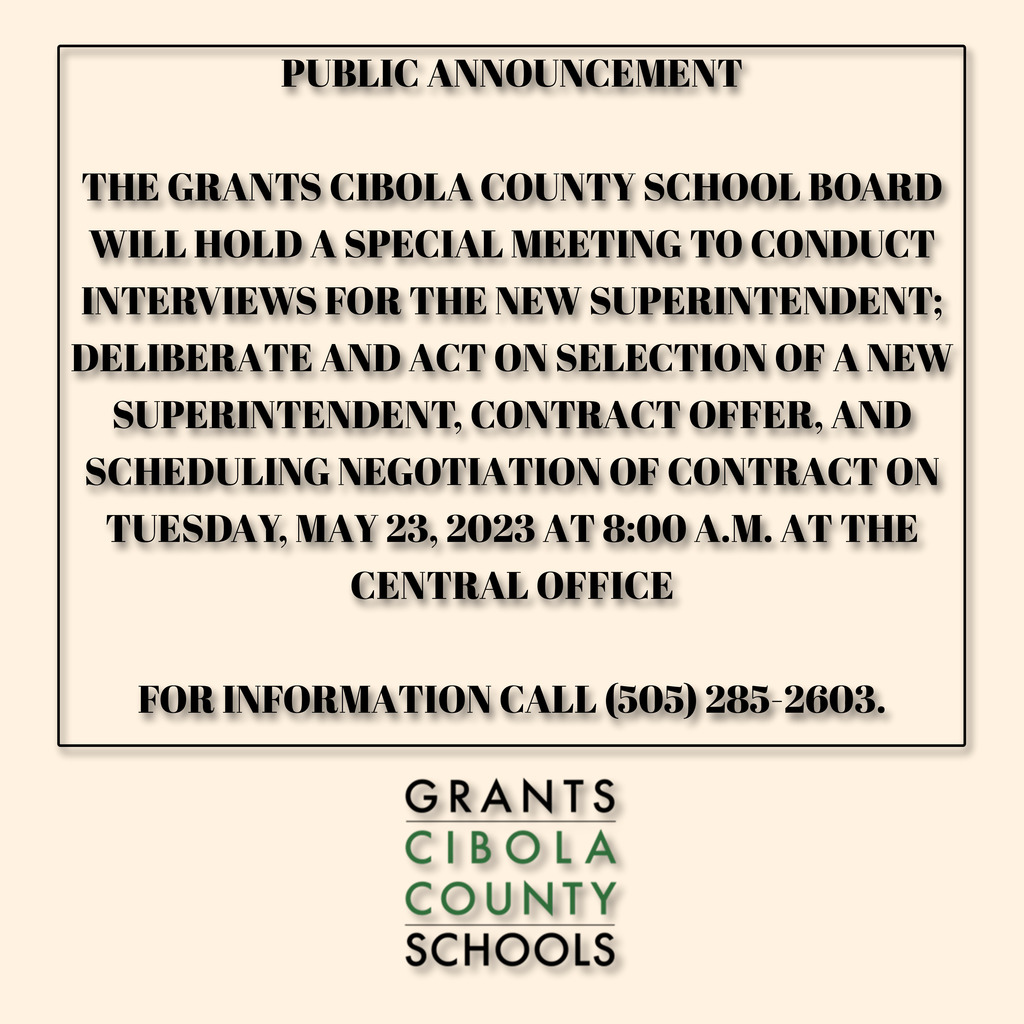 Each year we encourage our music students to finish the school year with a crescendo, and tonight they will do just that! Join us tonight as we present our Spring Finale! Concert. Doors to the auditorium open at 6:30 pm and the concert begins at 7 pm. Performances by the Grants High School Jazz Band, Choir, and Concert Band. It will be an evening of great musical performances.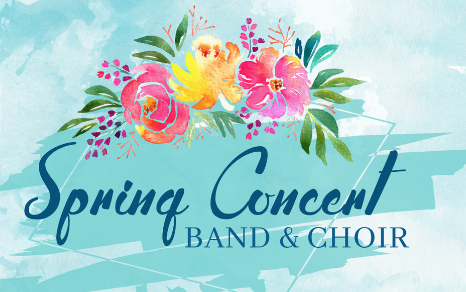 Attention GCCS Community - Attached you will find the flier from Cibola Family Health for physicals this summer. They have partnered with Pizza 9 to reward those students who schedule an appointment as opposed to waiting for the dollar physical day. NMAA has changed their physical form for the 2023-24 school year. It can be accessed at the following link ttps://
www.nmact.org/file/Physical_Form.pdf
or students can pick up a form in the front office. Homecoming is scheduled early this year, so students who would like to participate in powder puff will need to bring their physical to the athletic office no later than Friday, August 4th. We will still have dollar physicals on July 18th, however we would like to encourage as many students as possible to schedule an appointment prior to that date as this is the last year the dollar physical will be offered.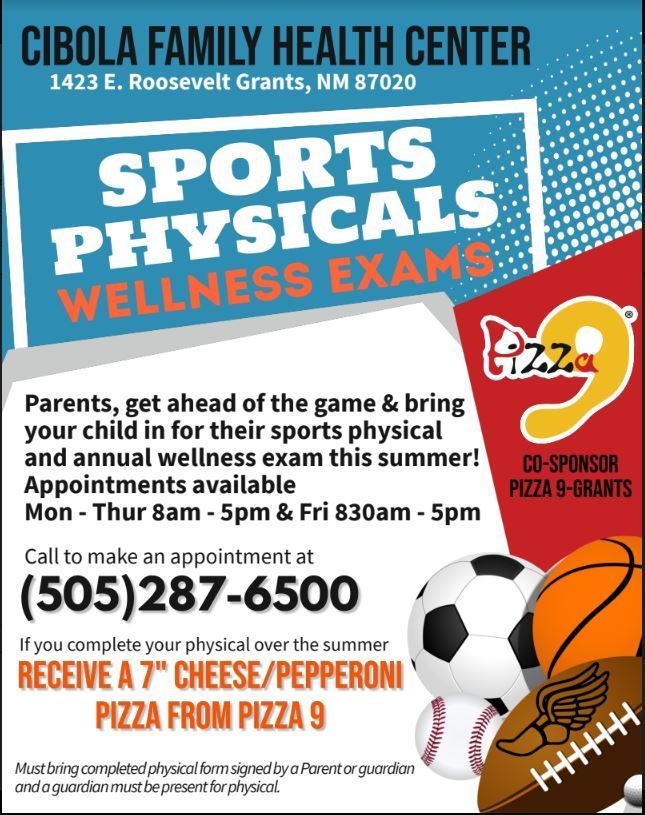 Attention all GCCS Parents and Students - We are in the home stretch for this school year and it is very important that you attend school until the last official day of 5/26. Attendance will be taken at each school daily and reported to the state. Thanks for your cooperation.

Music at Grants High School will present its Spring Finale! Concert tomorrow night, Tuesday, May 16th at 7 pm at the Grants High School Auditorium. Admission will be free and the public is invited to attend. The concert will feature performances by the Grants High School Jazz Band, Choir, and Concert Band. Doors will open at 6:30 pm.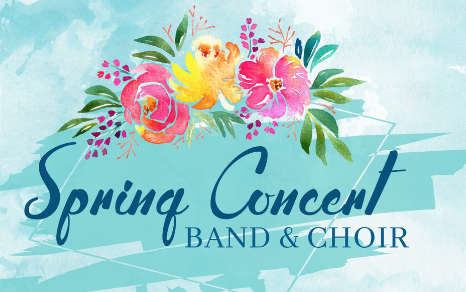 Public Announcement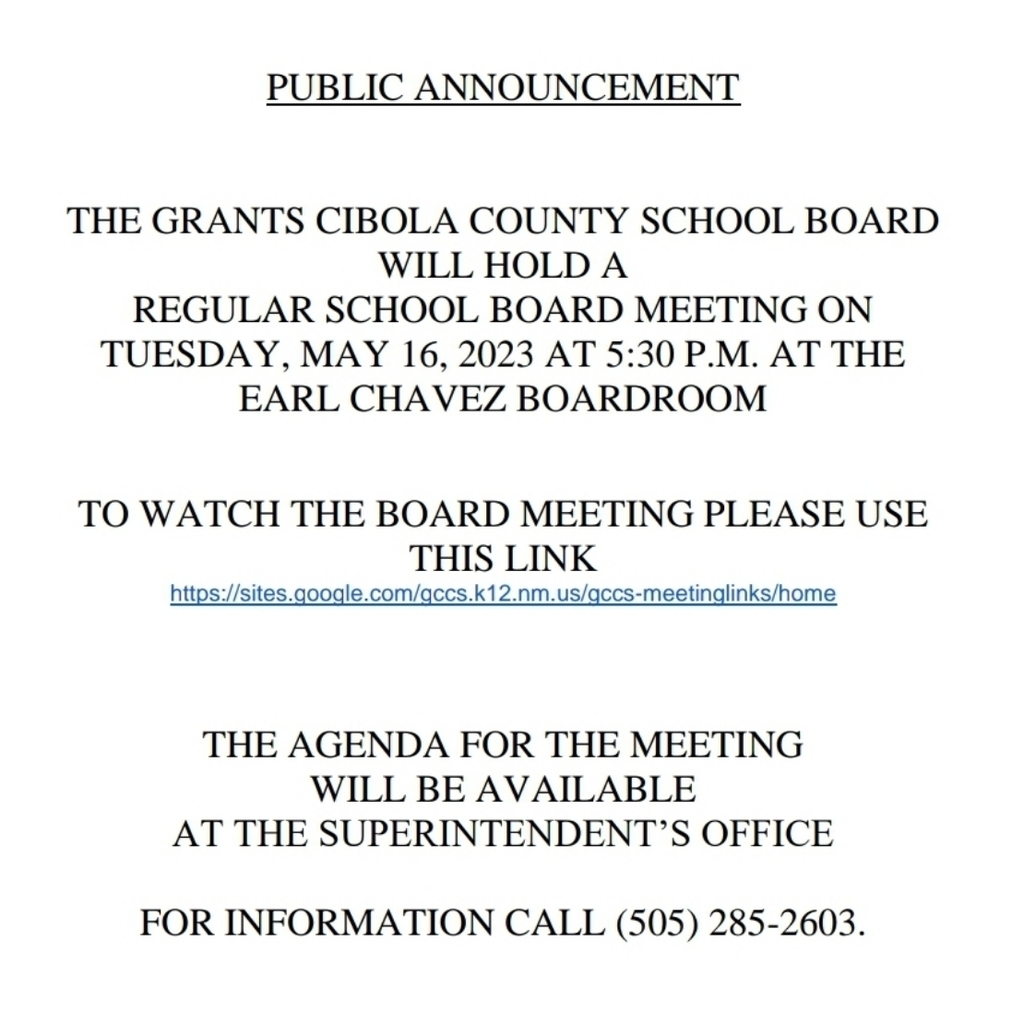 Lets all give a huge shout out to our GHS boys and girls track teams! Heading to Albuquerque today to compete in the State Track Meet! Good Luck Pirates!!!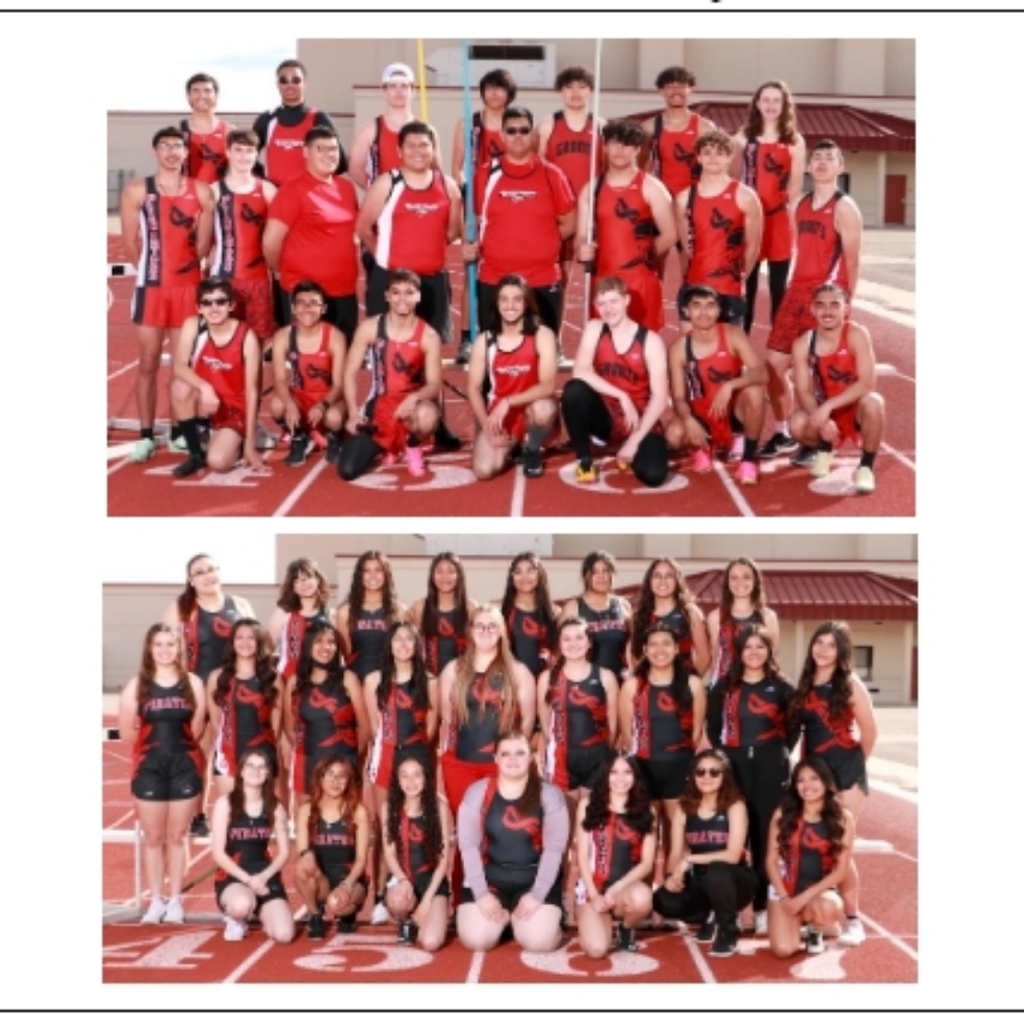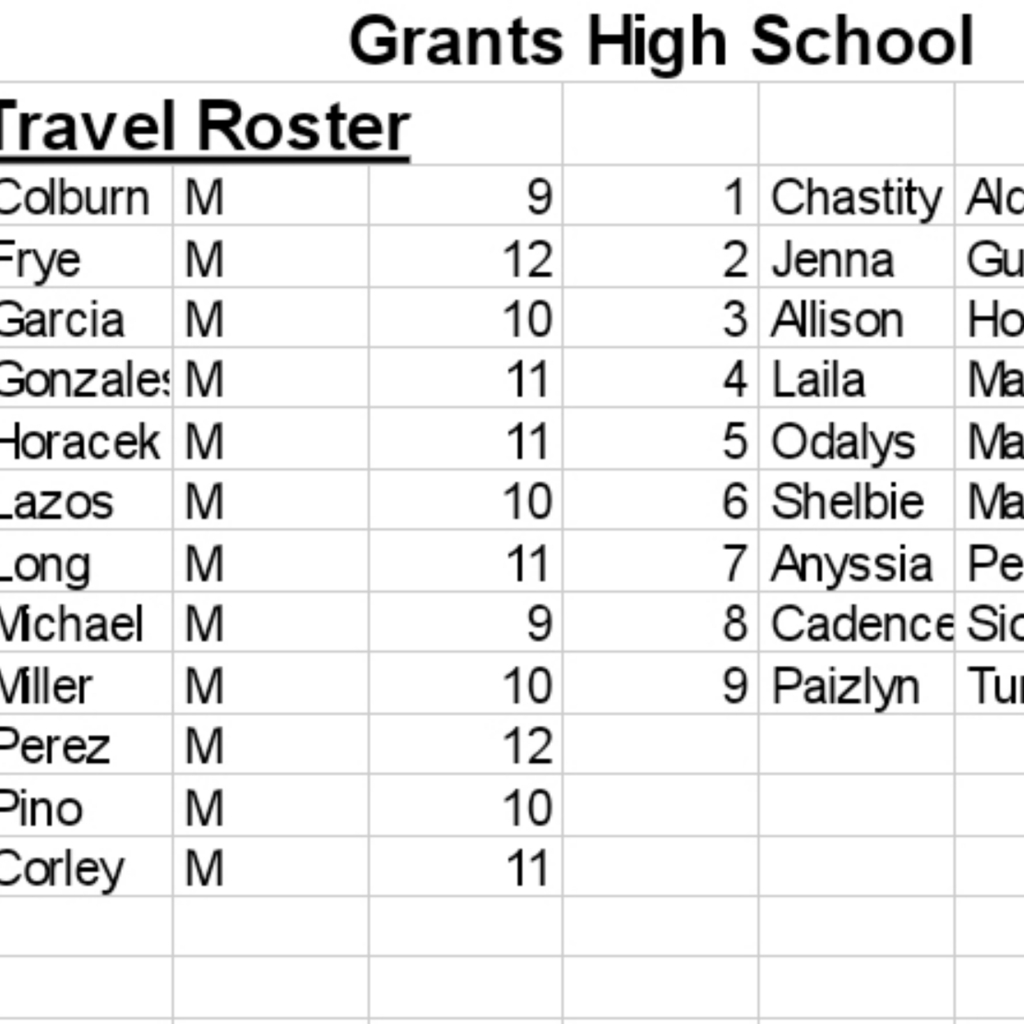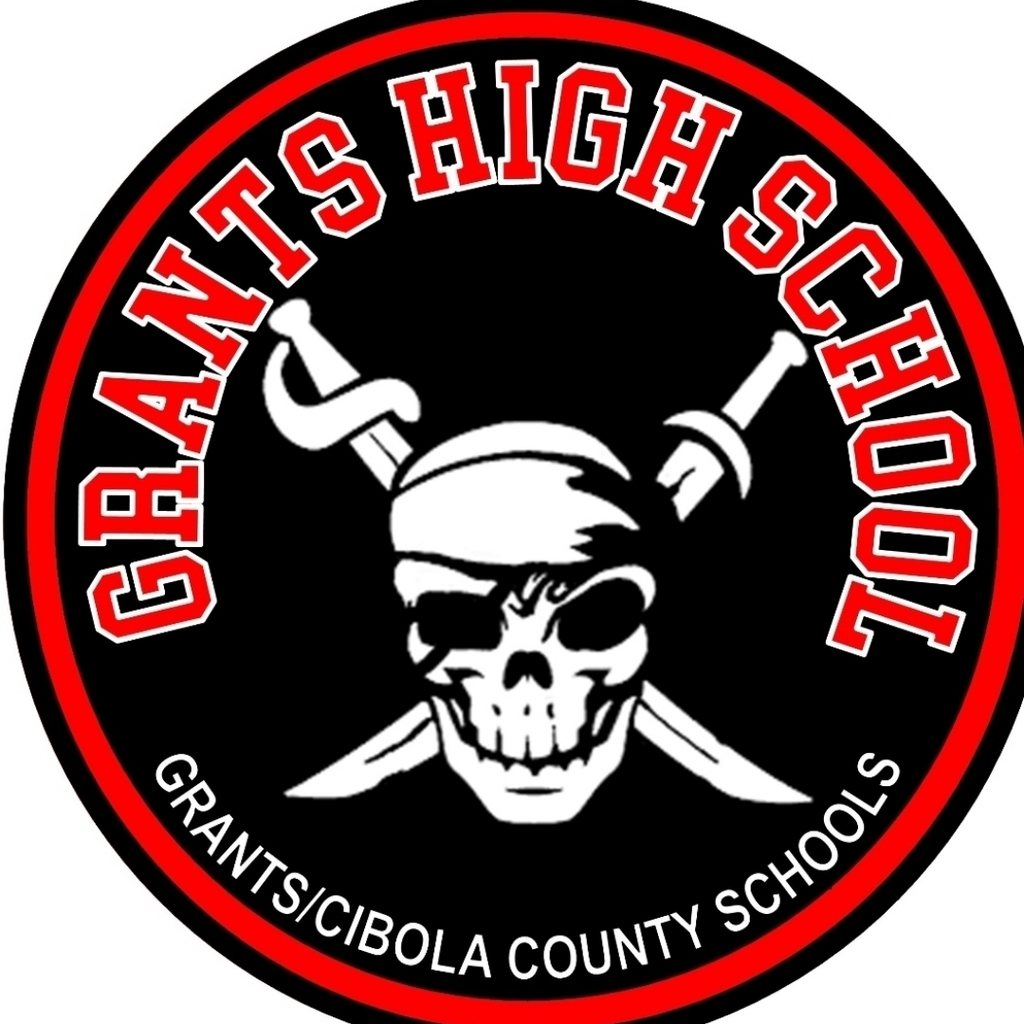 Advanced Drama will be performing tonight at 7:00 PM. Students have been hard at work writing and rehearsing their own skits and monologues. Please come support these wonderfully talented students. Doors at the GHS Auditorium will open at 6:30 PM and there will be no charge for admission.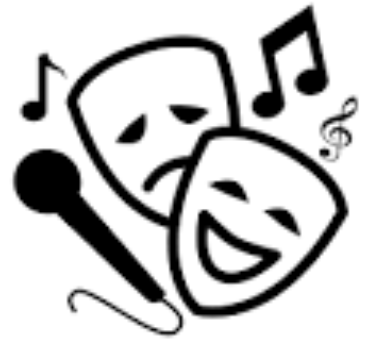 Attention GCCS Community, an error was discovered on the original information flyer for PRE K Registration. Please review this one for the corrected information. Thanks